Archive for October, 2009
Source: Halloween Safety Guide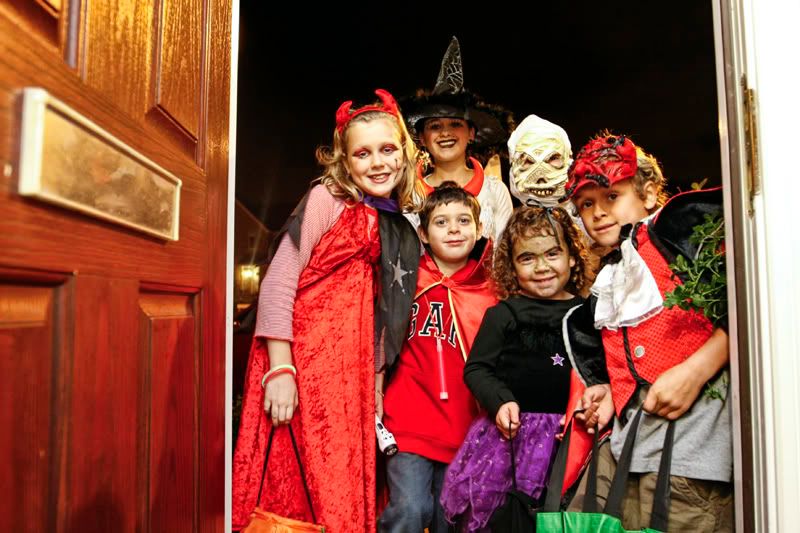 Kids look forward to Halloween for many reasons. They like the dressing up in costumes but the mostly they like it for the candy and treats! Who wouldn't? Even some adults still like to go our trick or treating. It makes them feel young and happy again. While this section sticks mainly to guidelines for kids, they are just as useful for adults.
Some parents like to take first dibs on some of the candy that the kids have picked up during the night. It's their reward for taking them around from house to house! We suggest that you watch the candy intake when you all get home, too much at one time can lead to stomach aches and indigestion. That includes mom and dad as well!
Make your child's Halloween a memorable holiday and they'll have good memories that last a lifetime! If you are taking your kids out for the night, dress up as well. Mom and dad should get into Halloween as much as the kids do!
Trick or Treating should be one of the great adventures of Halloween for kids! They can get dressed in scary costumes and go door to door, begging "Tricks or Treats!" from neighbors or at the local mall. Lots of small towns have a Halloween Safe Night at the community center or school so kids can Trick-or-Treat safely but going door to door is the stuff of childhood memories! It should be a fun time, without trouble and pain, so following some easy tips can keep your child safe every Halloween.
Children should always go out trick or treating accompanied by a responsible adult. If you have a group of kids going, the parents should choose two or three of them to go along and keep an eye on things.
Some towns set a curfew for trick or treating which makes it easier for townsfolk to know who's coming to their door. Make sure and stick to the curfew times and stick to subdivisions and areas with a lot of homes so your kids can get in as much trick or treating as possible in a few hours time.
Plan a safe route so parents know where their older kids will be at all times. Set a time for their return home. Make sure that your child is old enough and responsible enough to go out by themselves. Make sure that they have a cell phone.
Let your children know not to cut through back alleys and fields if they are out alone. Make sure they know to stay in populated areas and not to go off the beaten track. Let them know to stay in well lighted areas with lots of people around. Explain to them why it can be dangerous for kids not to do this. If they are going out alone, they are old enough to know what can happen to them in a bad situation and how to stop it from happening.
Instruct your children not to eat any treats until they bring them home to be examined by you. This way you can check for any problem candy and get the pick of the best stuff!
Instruct your child to never go into the home of a stranger or get into their car. Explain why this is not a god idea and what to do if someone approaches them and tries to talk to them.
Make sure your child carries a flashlight, glow stick or has reflective tape on their costume to make them more visible to cars.
Let them know that they should stay together as a group if going out to Trick or Treat without an adult.
Thursday, October 29, 2009
By Parents Connect
Source: Yahoo
Hey busy mamas and papas, need a last minute Halloween costume for your kid? Get rid of the costume crazies without hitting the pricey party store with these easy-peasy 10-minute costumes using items you already have around the house! Don't worry, there's ZERO sewing involved, they're creative AND cost-effective! (You're welcome.)
Pinocchio: After styling your kid in a simple white tee and shorts with knee socks, tape construction paper buttons to the tee and then tie 5-feet long pieces of string to your kid's wrists and ankles. Tie the other ends of the string to two popsicle sticks that YOU hold. Hey, you're Geppetto! Add any puppet-y touches like a vest, felt hat, whatever you've got. Full instructions here.
Scarecrow: Dress your kid in a big flannel shirt and baggy jeans. Accessorize with a floppy hat, safety-pinned-on patches and straw (from your neighbor's decorative hay bale? Ask first though!) tucked into the cuffs.
Biker Dude or Chick: With a black tee, jeans, tattoos (temporary of course!), a bandanna and even some creative eyebrow penciled-on facial hair, your dude (or dudette) will be ready to rock! Full instructions here.

An American Tourist: Got a Hawaiian shirt? You're halfway there. Just add shorts, a money belt or fanny pack, a camera (or just the case and strap!), a handful of maps and an obnoxious hat. Black socks with sandals optional. Full instructions here.
Delivery Guy or Gal: Dress him or her up in brown shorts and a brown polo or tee. Turn a mailing label into a UPS logo and stick in on the shirt. Hand your kid an empty mailing box for him to carry and fill with candy! Full instructions here.
Artist: Help your kid splatter paint one of Dad's big plain white tees. Make a painter's palette from cardboard, paint on some dots, grab a beret from your coat closet, a paint brush and voila! Full instructions here.
Pilot: Dress your kid in khaki pants and a white shirt and add aviator glasses and a brown cap. How Top Gun of you!
Clumsy Skier: This works best for climates with cold trick-or-treating conditions. Put your kid in her snow gear and then put your first aid kit to good use. Wrap limbs and head in gauze, add bandages, face paint on a black eye and some cuts and bruises (here's a good recipe for easy homemade face paint), and add some crutches if you've got 'em! Full instructions here.
Hershey's Kiss: Cover a ski cap with tin-foil and add a white strip of "kiss" paper to the top. Put on a brown T-shirt and sweat pants, and then fill a bag with kisses … just in case someone's not sure what he is (yeah right, it's so you can snack on them all night long!).
Saturday, October 17, 2009
10-1/2-inch musical 1-day chalet by Schwer.  Clock features winter theme  with Hummel-style figurine. Turning waterwheel and moving dancers.  Wooden dial and hands, and wooden numerals.  Carved bird, night shutoff, old-made brown chains, door of the bird is made with a metal hinge, case with handmade shingles, extra-deep carvings, and a golden gong spring.
very reliable and longlasting German brass movement by SBC
Swiss musical movement by Reuge
night shutoff lever
carved adjustable pendulum
Schwer Premium clock (5-year manufacturer waranty)
Available for Purchase at our Online Store