Collecting Antique Christmas Tree Ornaments
Thursday, June 11, 2009
Christmas continues to be the most popular holiday of the year. It is a time to get together with family and friends, exchange beautifully wrapped gifts, eat lots of delicious food and drink homemade eggnog. During the Christmas season, people enjoy decorating their homes inside and out and putting up a Christmas tree. It's the decorations that make the Christmas tree turn into a self-made masterpiece. Don't be afraid to load your tree with lots of colorful ornaments.

At Christmas many collectors like to deck their tree with classic ornaments. However, collectors realize that antique ornaments from the 19th to the early 20th century are getting harder to find making their price tags quite expensive. Some even sell for as much as $50. Since the price is high and they are becoming rare, many collectors are turning to ornaments made in the 20 years following World War II which would include the '50s and '60s. They are especially interested in those made in America.
Where can I find information?
Bookstores have plenty of good books on the subject of collecting. You can also obtain a subscription to different magazines on collecting. Two good books on this subject are Christmas Ornaments, Lights and Decorations, by George Johnson, and Holiday Collectibles by Lissa Bryan Smith and Richard Smith. Also, you can search online for information on Christmas ornaments.
History of early glass ornaments:
The idea of decorating a Christmas tree did not become official until the early 19th century. When people first started putting up a Christmas tree they didn't trim them with the type of ornaments we use today. For many years they garnished them with different kinds of candies, sugar coated fruits, nuts, homemade cookies, ribbons and small gifts.
In eastern Germany the town of Lauscha is known as the birthplace of the Christmas tree ornament. In 1590, a glassblowing center was established there. German Protestant glassblowers from Swabia started it there when they settled to escape religious persecution. Soon, the glassblowers created a profitable business by making glass toys including dolls eyes and drinking glasses.
By the 18th century, the Lauschan glassblowers started making tubes of connected glass beads, which they sold to merchants all across Europe. Later glassblowers from other countries started making beads and other items. The Germans made silverglass balls called kugels.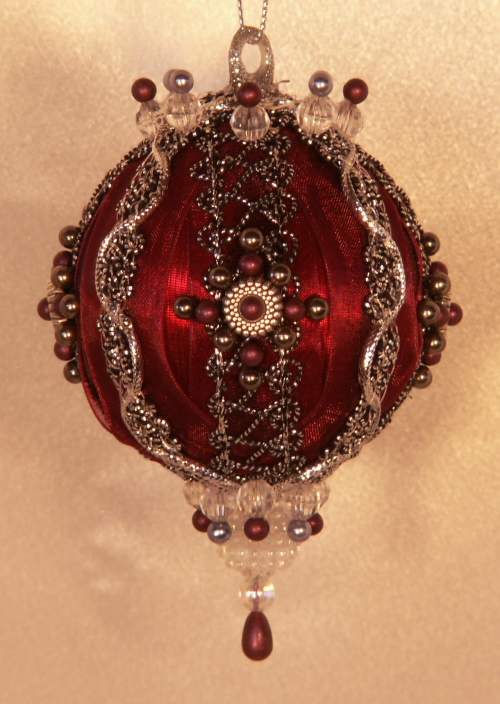 In the mid-1870s, merchants in the town of Sonnebery discovered the Lauschan kugels and received the rights to export them. Because of F.W. Woolworth, the Lauschan glass ornaments caught on quick. In 1880 he decided to give kugels a try in his store and bought some from his American importer for his five-and-dime stores. He sold out of the gorgeous ornaments immediately and women asked for more.
American Ornaments:
In the 1920s, the Czechs began making a good quality of ornaments, some were there original designs and some were copies of German molds. They sold the ornaments for less money than the Germans. The Japanese came along and made their decorations even cheaper than the Czechs. Because of the Depression in 1929, people were not able to spend as much money as they would like so the Japanese decorations fit nicely into their budget.
Max Eckardt, a German immigrant decided to produce his own line of ornaments. He opened his company in New York City and sold his ornaments under two different names, Shiny Brite and Max Eckardt & Sons. In 1939 F.W. Woolworth placed a large order and sold them in his stores from two to ten cents each. After World War II, ornaments were being sold in economical boxed sets. Usually a 12-piece set of solid colored ornaments sold for 63 cents or cheaper. A boxed set of 11 balls and one bell shape ornament sold for about 77 cents.
Types of Ornaments and prices:
Japan's hand-painted balls from the late '40s to early '50s. The tops are marked "Japan," and they sell for $3-$5 each.

American, hand-painted ornaments date to the '50s, and sell for $6-$10 each.

Shiney Brite indented bumpy ointments. Made from 1948 into the early '50s sell for $6-$12 each.

Shiny Brite striped and indent balls and other shapes. 1950s vintage. Indents sell for $6-$12 and stripes for $2-$3.

Various shapes and indents from Poland. From the 1960s sell for $3 each.

American design balls including glitter. The painted ornaments were produced from the late 1940s to the early 1950s. The glitter balls produced in 1950s and early'60s sell for $3.50-$6 each.

Shiny Brite solid color balls and oval shapes. From the '50s sell for $6-$8 for a 12-piece box.
Where to f
ind them:
They may be found in antique stores or where you least expect to see them in such places as yard sales or thrift stores and flee markets. Special place to find them would include collectible shops specializes in vintage ornaments and is probably the best place to search for them.
Join a
Christmas Ornament
Club:
You can join a club if you are interested in collecting all types of Christmas ornaments and other items. As long as you are into collecting Christmas items you can join these clubs and even meet other collectors. Annual membership usually runs $20, which almost always includes a bimonthly newsletter. To find these clubs you can search online or in books and magazines.
Source: Essortment.com